If you've logged into your LendingUSA merchant portal recently, you may have noticed a brand new feature. FastScreen is a new tool that allows funeral merchants to quickly pre-qualify families before the cost conversation even begins by prescreening them. Although FastScreen is easy to use, we know you've got questions. Let's dive right in!
How is FastScreen different from pre-approval?
Pre-approval is the result of our standard application, which requires personal information such as a social security number. On the other hand, FastScreen only requires the name and address of a potential applicant, allowing you to discreetly pre-qualify your customer before the cost conversation even begins. Within seconds, FastScreen will render a prescreen decision. If the individual is pre-qualified, you can confidently initiate the cost conversation knowing that they are likely to be approved for financing through LendingUSA.
What happens if an individual is not pre-qualified by FastScreen?
You'll receive a notification that the individual could not be pre-qualified. Since FastScreen is run without the individual's knowledge, there's no need to notify them of the result. Instead, you may choose to focus on other payment options during the cost conversation.
Is it OK to run a FastScreen inquiry on someone without his or her knowledge?
Yes. It's perfectly appropriate to run an inquiry without the individual's knowledge. In fact, this is one of FastScreen's main advantages – when you know whether he or she is likely to be approved for a loan, you can initiate the cost conversation already knowing whether financing through LendingUSA will be an option.
Do I need to sign up or opt in to FastScreen?
Yes. Even if you're already a LendingUSA funeral merchant, we simply ask that you book a quick training call with a member of our team and then we will make the feature available in your merchant portal. We designed FastScreen to be incredibly easy to use; simply input the customer's basic information, click "submit now," and receive a decision within a few seconds.
Will FastScreen impact an applicant's credit?
No. Only a soft credit inquiry is done which does not impact an individual's credit score. We believe that FastScreen will make the cost conversation less stressful for everyone involved.
What does the FastScreen process look like?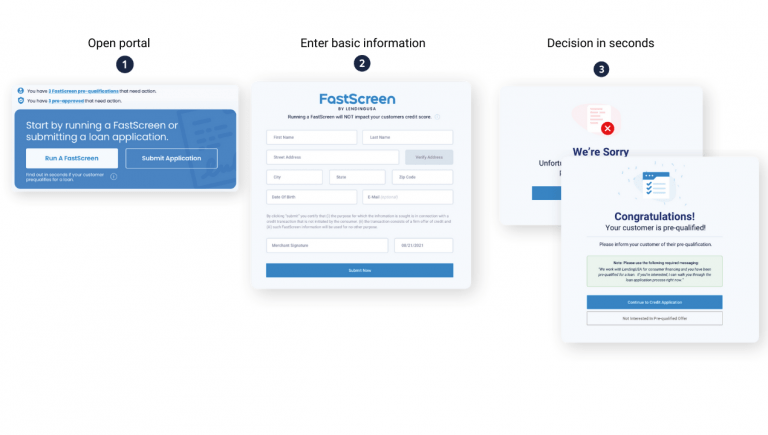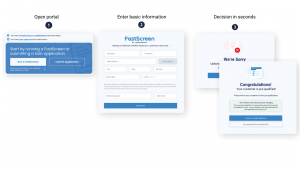 We invite you to give FastScreen a try today. If you have questions, reach out to your LendingUSA sales representative – we'd love to help!